We are pleased to bring you a new CMC-Canada member centre experience. 

We hope you enjoy the modern functions and connectivity of the new site for mobile and desktop, including improved navigation and security.

A new site also means new ways of doing things. We will walk you through the steps to gain access to the member section.
As we announced last week in our cNotes newsletter, we will be providing further instructional communications in the coming weeks to help you utilize the robust platform to its fullest.
For now, let's get you started with updating your profile information.
Once logged in here,  you will see a welcome and an option to update the following:
provide a photo image (not required)
to search and connect with some of your fellow members (again, not required, and can be added in the future)
you have the ability to post something that your fellow 'connected' members will be able to see (yes, not required, and please keep this professional :) ).
After you are taken through these steps, which only takes moments, we encourage you to update your profile information. As we have transitioned from another platform, we have taken much care to migrate your information as accurately as possible, but we want to make sure that if information has changed, you are updating this right away.
Click on your name in the upper right corner (using my, Jason Blow, account as an example).

You are now able to view and edit your profile details. 
Please verify that the information is correct and change as required.

Another important step to take here is to verify the visibility of your profile information. We have automatically 'hidden' from view many of the profile fields so these are not visible within the Directory. If you wish to alter the visibility, please click the icon beside the appropriate profile information and change the desired access.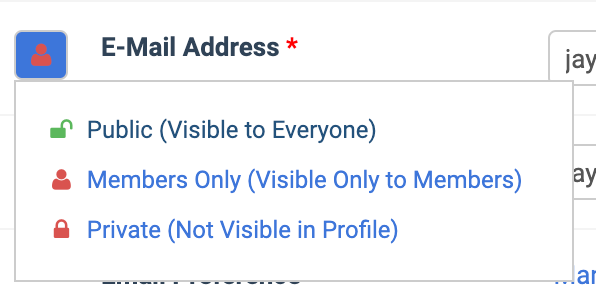 When you select "Public" this mean all individuals using the Directory Search will be able to see this information. So please make sure that you are comfortable with this information being made available. As the others suggest, if a Member is logged in, they will be able to view the "Members Only" information and selecting Private will keep those details off of the Directory entirely.
Once you are comfortable with all of the above, please click here to be taken to the sign-in area of the new site.
If you have any questions, please contact us at consulting@cmc-canada.ca and we will be happy to assist.

Thank you, Jason Blow
Director Membership and Business Development