By: Sharon A.M MacLean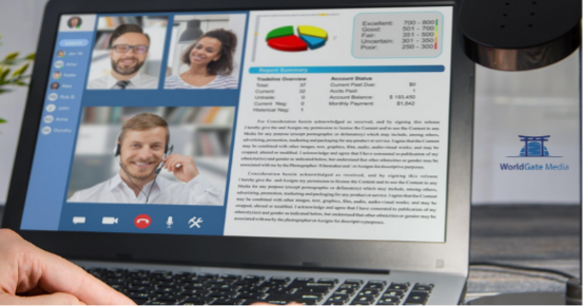 Part of a three part series. Read Part 1 (content strategy) and Part 2 (Influencers)
The global pandemic fundamentally altered the way many of us work, learn, and communicate with each other.
We collectively pivoted to where offices, schools, restaurants, and retail outlets adopted remote work virtually overnight. Here's an overview of how marketing can use virtual meetings to distribute content and manage engagement online.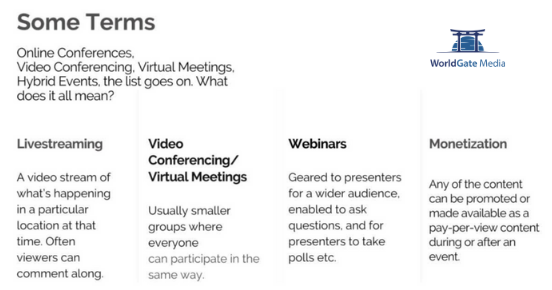 Virtual Meetings: Who wants this type of content marketing: Coaches, trainers, educators, and conference organizers as well as entrepreneurs and big business executives who moved to virtual meetings during the 2020 pandemic.
Notable:
Virtual conferences include the stretched summit (strive for not more than 2 weeks long); condensed (over 1-2-day summit with 10 speakers);

Speakers often include industry celebrities. They likely have best-selling books, training courses, or consulting services to offer as door prizes that drive deeper connections with attendees;

Engage attendees before the event: send kits with a conference program, branded book. Or a bottle of wine;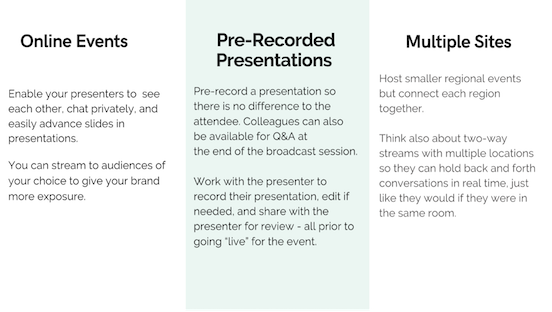 Encourage attendees to post photos on social media to increase awareness of the event;

Capture speaker content: pair your breakout sessions with Google docs to record proceedings and monetize later;

Virtual etiquette. When introducing break-out sessions, review the rules. Assign breakout rooms beforehand and drop into the chat room to monitor meeting progress;

Assign tasks to participants: chat facilitator, timekeeper, word processor who enters responses;

Relax rules at the start of the session to give attendees five minutes or so to catch up on casual conversations. This builds relationships - challenging enough in virtual vs face-to-face gatherings;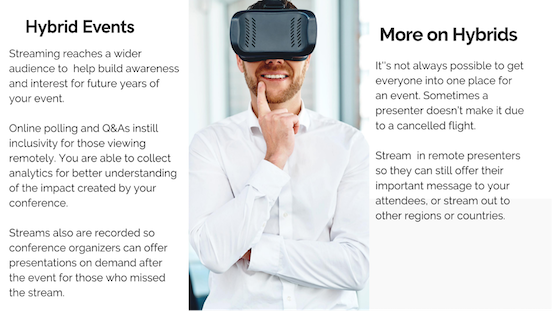 Create Explainer Videos for Content Marketing
What is it: Short videos that generally explain your service in 60-90 seconds. Don't go beyond 3 minutes.
Who Wants This Type of Content: Decision makers who want a better idea of your presentation style and an overview of your offer.
Noteworthy:
You don't need to compete with the production values of Game of Thrones. You can add value with one of two things: information (how-to-videos, explainer videos) or entertainment;

Help yourself by developing rough storyboards:

Use screen recording software;

A short script in a conversational voice to structure your video content helps a lot. Think about your video as you would about your blog post.

Visuals, music and sound all work with words to deliver the message;

Complete a creative brief first. It helps you think about your business at a high level and makes you define what really matters;

Showcase benefits over features. Tell people how your product or service is going to make their lives better;

Have a marketing plan. Leverage your blog, newsletter, social media channels, e-mail signatures, and events to share your video.
Some tools allow you to create great content:
PowerPoint (on Windows) or Keynote (on Mac)

CamStudio: free screen recording software (Windows)

ManyCam: recording and broadcasting studio for screencasts and webcams (Windows free version with limited features)

Jing – Free screencasting software which is limited to 5-minute recordings. Great for quick how to videos.
--
About the Author— Sharon MacLean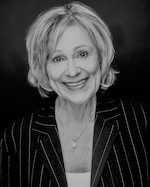 Entrepreneurship, Magazine Publishing, and Social Marketing are the threads that weave throughout my career. They reflect my professional life driven largely by purpose and relationships — most recently through WorldGate Media and Boards of Directors for TechInvest Alberta, and RoadShowz/StreetSeenz.
Yet, it was through starting up and running Edmontonians magazine for 21 years where a reputation for community engagement flourished. In some ways, I see the magazine that covered leaders of commerce and the community as a predecessor to social media!
My world changed dramatically in 2010 given the disruption of traditional media which led to the sale of the magazine…and my launch into new media.
The disruption opened doors for an investor start-up in online wellness with an international team. Experience with journalism media and community publishing incubated an understanding of content creation, distribution, and network platforms.
Every skill acquired during the foundational years has been leveraged to serve my passion for professional communications in the digital age.
Social enterprise fired up all my neurons and stretched my resilience. I now help professionals and business owners flourish using traditional and modern forms of communications marketing. Learn more.