The secrets of effective change continue to fascinate the business community. An understanding of how people or organizations can be encouraged to change or adjust behaviors is fundamental to implementing the outputs of consulting engagements. It is most effectively practiced in partnership with a client organization and its leaders. It isn't always effective--there is no foolproof formula--and so we continue our fascination.

Why Does Strategic Change Often Fail?

According to practitioners[1], there are six major reasons why strategic change fails:
Lack of senior leadership alignment with outcomes and debilitating internal politics.
Failure to engage and appropriately communicate with those affected.
Absence of a fact-based and disciplined business case.
Lack of a constructive voice with senior leaders.
Ineffective implementation; coupled with an inability to sustain the change after operationalization.
Twenty years ago the emphasis was on episodic organizational shifts prompted by major IT system installations, dramatic strategic shifts or mergers/acquisitions. Today, it appears that we have become preoccupied with building organizational capacity for change and concurrently with the art of strategic change leadership. From an external advisory perspective, the preoccupation has shifted from broad process (episodic) to mentoring/coaching (ongoing capacity). Within this interesting dynamic, the obvious question is how are our most experienced professionals now practicing change?

How Game-Changers Lead

The research outcomes included two constructive insights about how to effect change:
Specific individuals (referred to as game changers) have been extraordinarily successful in making enduring strategic change happen.
These game changers work implicitly within a framework for leading change, illustrating the breadth of factors that make strategic change work.
The research suggests that when the organizational change context is change friendly, transformational change is possible, and the leadership factors identified below are critical but not individually sufficient.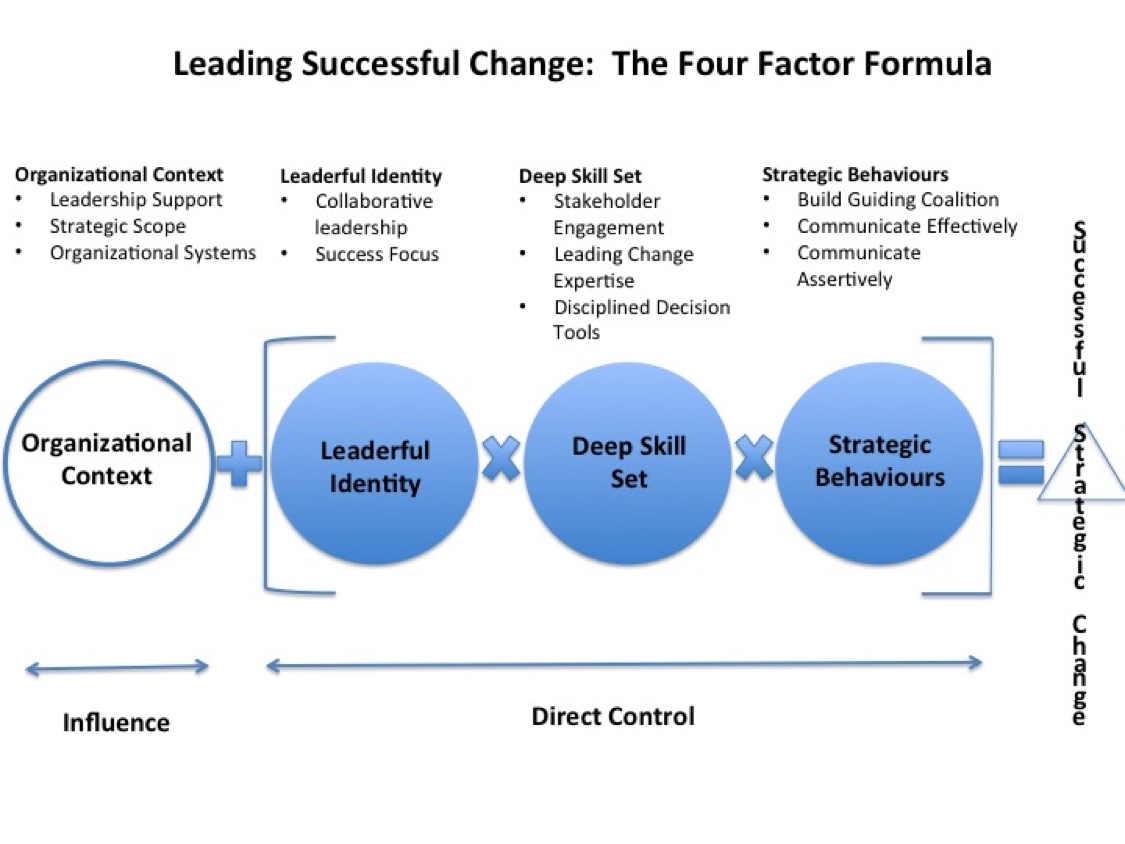 While these factors and their parts ring true, in combination, this is a formidable and almost impossible combination of concepts to consciously translate into change enabling behaviour. Rather, it strikes me as an acquired philosophy and suite of competencies acquired through experience, discipline, and personal maturity. Certainly observable, definitely effective but not easily translated to others in a classroom or by webinar.

Strategic Trickery

While I believe there are a lot of very useful insights and numerous 'how to ' lists throughout, I was drawn to the pragmatism of the suggestions and approaches used. The work provides a sharp contrast to the extensive process maps and comparatively structured approach that often marked the early days of change theory and practice.

For example, the research includes a discussion of strategic trickery (thoughtful plans to reduce strife and eliminate polarized meetings while executing complex, collaborative change) to achieve alignment between highly polarized and siloed factions. To illustrate, a change leader might work with factions individually, finding patterns in the requirements and achieving sign-off on similar solutions.

Personal Observations

I imagine many of us have fashioned our own approaches to change. This particular contribution left me with some key take-aways:
The critical link between attitude and behavior and the failure to establish causality, lets us do some very unorthodox things (force changes in behaviour and then enable the attitude change). I have seen some very productive work that starts with forcing a behavioural change and then providing a structure, process, enablers, and incentives that lead to acceptance and endorsement.
We do what works and then look for a theory that supports it! (the role of uncommon sense).The work reflects a growing interest in understanding what successful leaders do (see Warren Bennis – "On Becoming a Leader" - or the work summarized in "Influencer: The New Science of Leading Change", Second Edition (Paperback) by Joseph Grenny, Kerry Patterson, David Maxfield and Ron McMillan (Apr 23 2013).
In many cases, the practices outlined in the research will validate what is already being done because it works.Seeing it organized into a framework is useful for understanding and insight, but it is not predictive. As the researcher notes, sometimes the 'game-changer' will draw upon a range of possible approaches, processes, and tools, depending upon the situation. Intuition, imagination, experience, and common sense all come into play when designing a pathway to transformative change.
Understanding change -- and how to affect it -- continues to perplex us but practice has become quite accomplished – we just don't always know why.
I encourage those who have dedicated their careers to the practice of change to get a hold of the executive précis and draw their own conclusions. I know you will benefit from the imparted wisdom of other accomplished practitioners.

[1] 22 change leaders were contacted by Dr. Gail Johnson Morris (as a partial requirement of her doctoral thesis) of whom 95% were senior executives (45% female/55% male), 68% were external consultants (59% were CMCs). 22 unique financial services sector examples were studied in 8 different organizational types, representing the west, central and eastern Canada. Dr. Morris can be reached at her firm LeaderLink (www.leaderlinkinc.com)
#ChangeManagement