Engagement Review – The Solution
South Sask Ready commissioned Amistra Consulting to prepare a sector feasibility study to identify economic renewal projects in four sectors – Agri-Value, Mining, Green Energy and Tourism. Amistra assembled a cross-functional team with expertise in each of these sectors, under the guidance of an FCMC as the project leader who also coordinated the efforts of a senior economist to prepare economic projections for the identified opportunities and address the client needs.
Rather than search for a single, large-scale opportunity to replace the coal plant and associated mine closing at the end of 2029, the focus was on finding medium and small scale mutually supporting opportunities. 
Taking a holistic approach and emphasizing opportunities with strong synergies across two or more sectors was a key factor in opportunity selection. The objective was to have any target opportunity connected to two or more economic sectors.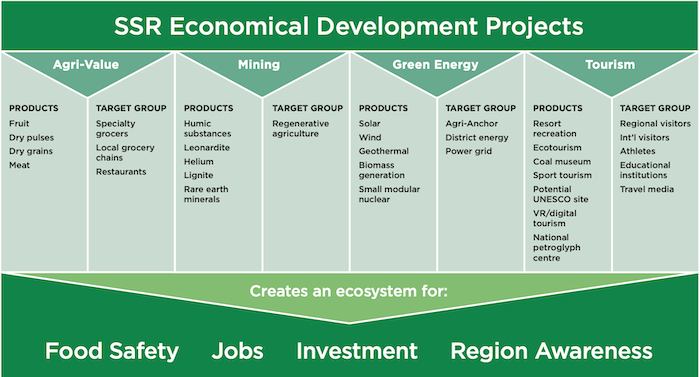 The combination of these integrated initiatives would deliver a benefit across the entire economy by linking growth in all sectors.
The provincial utility, a key stakeholder in the study, provided insight into the assets that could be available following the power plant closure. Next, using an adaptation of the well-known Business Model Canvas, the team vetted over 60 opportunities. 
Their adaptation, termed the Opportunity Model Canvas, focuses on identifying opportunities using two primary criteria – Opportunity Factors and Opportunity Assessment Factors. Opportunity Factors summarize the essential facts that describe an opportunity at this feasibility stage – Key Stakeholders, Strategic Factors, Value Factors, Market Factors, and Customer Segments. Opportunity Assessment Factors are used to derive a qualitative assessment for an opportunity using three criteria – economic growth potential, competitive success potential, and risk management success potential. 
While high-level, the method did a remarkable job of filtering out opportunities that did not fit the overall goal of contributing to economic renewal. A ninth factor, synergy, provided the final filter by assessing which opportunities best fit into the sector integration model to create an economic engine focused on the over-arching study focus – jobs. 
The resulting list of 43 high potential projects – anchored by the SOFI – South-Saskatchewan Food Origin Initiative to leverage the region's agri-business strengths – form the recommendation for a multi-sector approach that creates a solid foundation for transformational change.
The integrated, multi-sector approach also plays to the implementation timeline. Tourism opportunities, for example virtual reality tours of regional landmarks to stimulate demand for eco-tourism, can start immediately to create economic renewal momentum for pre-closure opportunities like the vertical greenhouse and post-closure opportunities such syngas bio-fuel production.  
The study provided three economic renewal scenarios, in addition to a base case 'no renewal' scenario, to guide various investment strategies.
Developing the core opportunities will take time, during which the development of opportunities in other sectors creates momentum not only for renewal opportunities but also enhancement of the underlying regional infrastructure in transportation, high-speed networks, education, and healthcare. Fully implemented, the region can become a world leader in food safety with synergistic activity in tourism, manufacturing, and renewable energy to make South Saskatchewan Ready a coal-transition success.

Enhancements to the local heritage, eco-tourism, and community initiatives were formed through one-on-one coach and inquiry interviews that captured the community's agricultural and cultural heritage passion and the unwavering belief that South Sask Ready will be a cultural success to match the economic growth of the entire region, one deserving of international attention.