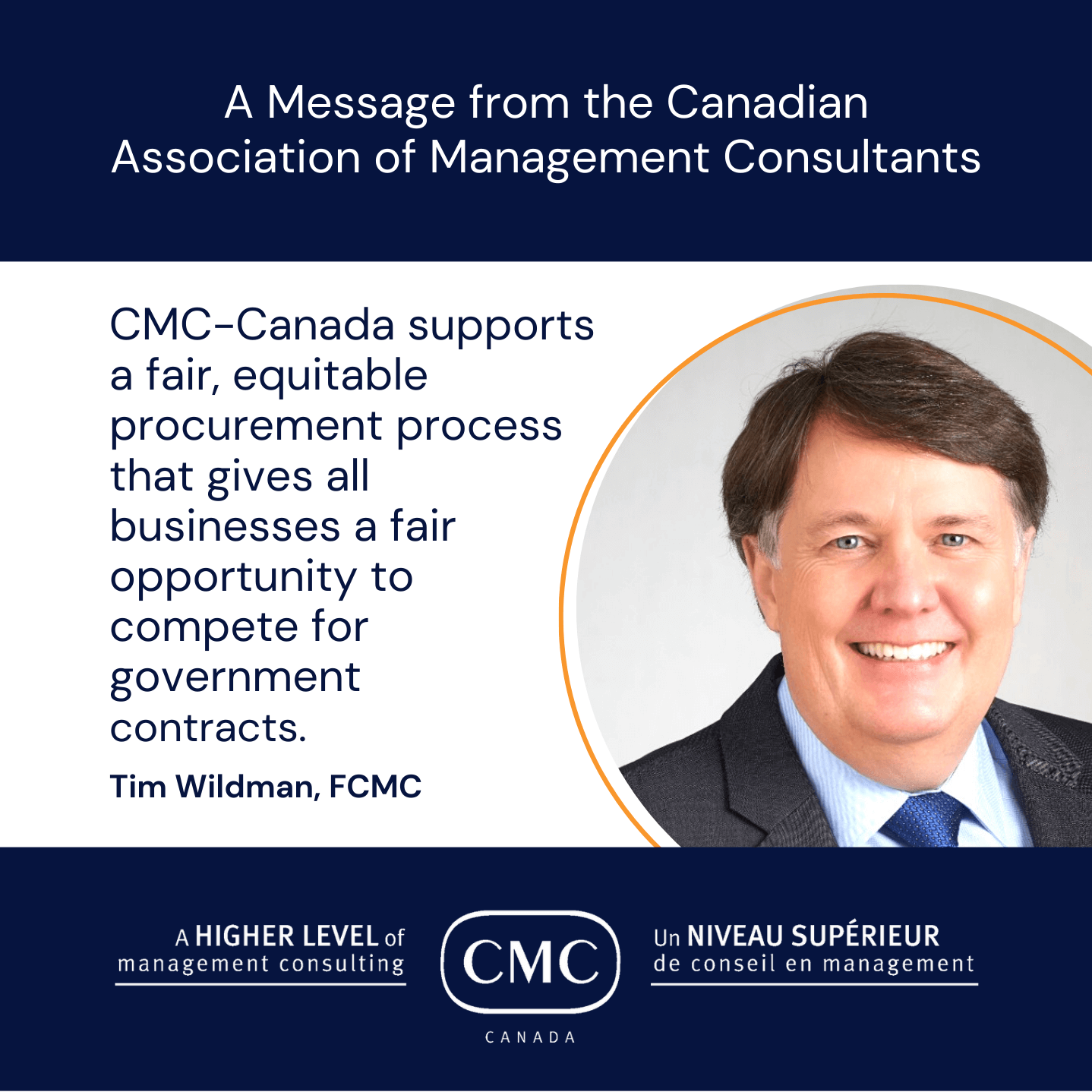 A message from our Board Chair, Tim Wildman, FCMC
February 9, 2023
The House of Commons Standing Committee on Government Operations and Estimates proceedings have recently raised questions about the propriety of the government's procurement process, the government's use of consultants generally, and whether consultants seeking government contracts are concerned with protecting the public's interest. We believe the questions raised by these proceedings may undermine the public's confidence in consultants, including Certified Management Consultants (CMCs), which is an issue of grave concern for us. The Canadian Association of Management Consultants (CMC-Canada) supports a fair, equitable procurement process that gives all businesses a fair opportunity to compete for government contracts.
While anyone can offer their services as a consultant, professional management consultants are meant to function as trusted sources of objective, independent, and impartial advice to their clients – be it to identify and analyze problem or opportunity areas, to recommend solutions to address those problems or opportunities, or to assist with the implementation of solutions.
When clients engage consultants, they expect professional and ethical behaviour. In fact, management consultants are meant to subordinate their own self-interest to the needs and interests of their clients, and must view those interests from a broader public perspective. They must act in accordance with applicable laws while maintaining professional standards of ethical behaviour that reinforce the public's right to confidence that the consultant will always act to protect the public interest.
The designation "Certified Management Consultant" (CMC) is a protected designation recognized by provincial statute in most provinces. Specifically, Certified Management Consultants are recognized in law as members of a self-regulating profession in British Columbia, Alberta, Saskatchewan, Manitoba, Ontario, Québec, and Nova Scotia, and permission to use the CMC designation is dependent on being a member in good standing of a certifying institute. CMC-Canada will continue to support and advocate for a regulated consulting profession, which helps minimize and mitigate the risks to the public.
The CMC designation is also the pre-eminent designation for management consulting internationally, recognized in over 48 countries that are members of the International Council of Management Consulting Institutes (CMC-Global).
Engaging a CMC provides an assurance of quality and a risk-informed approach. As members of the profession, CMCs have demonstrated their mastery of a body of knowledge that is appropriate to their profession and are obliged to continue their professional development throughout their practice.
CMCs make recommendations that consider the broad implications for their client's business. They subordinate their self-interest to serve their client's needs and interests, always keeping the broader public interest in mind. They adhere to ethical norms of the profession, always respecting the laws of the land and following a Uniform Code of Professional Conduct that addresses their responsibilities to the public, the profession, other members, and clients. They face legal consequences and disciplinary action through their provincial certifying institute if their behaviour is illegal or unprofessional.
While a CMC may specialize in an industry sector or offer expertise in a functional area of the business, the requirements for certification as a CMC include confirmation that the consultant is knowledgeable in all functional areas of a business, based on a common body of knowledge. Whether they are a sole practitioner or a representative of a large firm, CMCs exemplify a standard for management consulting services that delivers value for money and peace of mind for their clients.
Membership in a certifying institute and in the Canadian Association of Management Consultants (CMC-Canada) is subject to the candidate meeting eligibility requirements established by the profession. Similarly, certification of members is subject to a member evaluation and maintaining the certification requirements established by the profession, including technical competence in their areas of practice, ethical professional conduct, avoiding conflict of interest, providing objective, independent and impartial advice, and maintaining client confidentiality.
Clients seeking the services of a professional management consultant should look for the CMC designation as an indication of a higher level of management consulting.
Tim Wildman, FCMC
Chair, National Board
CMC-Canada
--
CMC-Canada will continue to advocate on behalf of the consulting profession and the CMC designation, to ensure the Canadian consulting community is up to the highest professional and ethical standards.
We highly encourage our members to register for our upcoming CMC Advocacy Webinar: Adding Value to your Designation on April 5. Our National Advocacy Committee representatives will present key best practices and tools that members can leverage to build demand for the designation and their services.
If you have any questions or comments on this issue, please contact: consulting@cmc-canada.ca