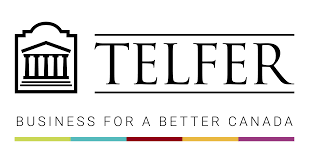 Ottawa, (Aug. 25, 2022) – The Canadian Association of Management Consultants (CMC-Canada) is pleased to welcome back the University of Ottawa as a partner in education.
The focus of this agreement is on preparing Telfer School of Management graduates for the Certified Management Consultant (CMC) designation.
The university recognizes the value of the CMC for the career development of its students and commits to offering courses in interpersonal skills and project management, as well as on the process of management consulting. The content of these courses meets the educational requirements of the CMC designation.
Telfer MBA Program Director, Professor Catherine Elliott, shared thoughts on the value of continuing our partnership: "This partnership recognizes the strength of our MBA and Executive MBA programs in preparing students for a career in management consulting. This partnership reinforces our commitment to excellence in management consulting and advancing industry professional standards. Our curriculum is experiential – we have a major team-based consulting project as well as a classroom component on professional standards of practice and consulting ethics. We are thrilled to provide this opportunity to our students to help them launch or accelerate their careers in management consulting."
"A renewed partnership between the University of Ottawa's Telfer School of Management and CMC-Canada greatly benefits both organizations, especially students interested in management consulting," says Donna Ringrose, Executive Director of CMC-Canada.
"The CMC designation is the consulting profession's only international certification mark, recognized and respected in over 40 countries. University of Ottawa students will now have the opportunity to demonstrate an early commitment to our profession and access a wide network of leading consultants to help support their careers. We are pleased to be able to offer this path to our designation for their students."
With this renewed partnership, University of Ottawa students can access a variety of free resources through CMC-Canada:
Membership: Free student membership is offered, consisting of full access to benefits like job postings and membership pricing for professional development and networking events.
Connect: Access to the CMC-Canada Mentorship Program, industry and service communities, speakers, judges, and career mentors.
Resources: Immediate online access to the association's Common Body of Knowledge (CBK) highlighting the methodologies, tools, and techniques for student members.
--
About CMC-Canada
The Canadian Association of Management Consultants (CMC-Canada) fosters excellence and integrity in the management consulting profession as a whole. CMC-Canada administers, and its regional Institutes confer, the CMC designation in Canada. The Association and its members advocate for the CMC designation and are dedicated to advancing the profession and delivering the benefits of those efforts to the client community.
About the Telfer School of Management at the University of Ottawa
The Telfer School of Management at the University of Ottawa is located in the heart of Ottawa and is the proud academic home of some 4,300 students, 200 faculty members, and over 31,000 alumni. At Telfer, everything we do from teaching to research, to policy advice is firmly aligned with helping Canada reach its potential. We believe that better business practice means a better Canada and that a better Canada means a better world.
Media Contacts
CMC-Canada
Jordan Sandler
Director, Marketing & Communications
CMC-Canada
Tel: (416) 860-1515 x 205
E-mail: jsandler@cmc-canada.ca
Telfer School of Management
Jonathan Simon
Director, Marketing & Communications
Telfer School of Management, University of Ottawa
Tel: (613) 562-5800 x 4744
Email: Jonathan.Simon@Telfer.uOttawa.ca

--