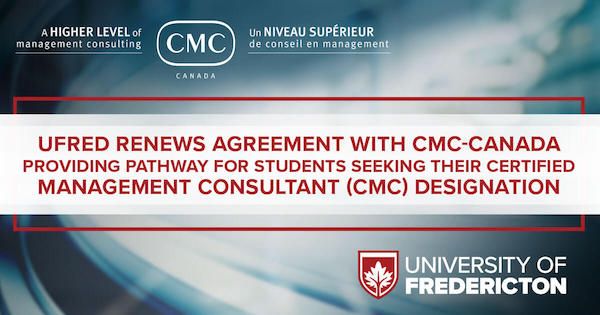 Toronto, (October 5, 2022) – This summer, the University of Fredericton (UFred) was pleased to renew its partnership with the Canadian Association of Management Consultants (CMC-Canada), ensuring that UFred remains a member of CMC-Canada's Academic Partner Program.
Initiated in 2020, this strategic partnership allows UFred and CMC-Canada to provide professional educational benefits and discounts to UFred students pursuing management consulting careers.
The Certified Management Consultant (CMC) designation is internationally recognized as the benchmark of excellence and integrity in the management consulting profession. As the Canadian Member Institute of CMC-Global, CMC-Canada administers the CMC designation within Canada.
"Our relationship with CMC-Canada allows our EMBA and MBA students in the Consulting Leadership Stream to have access to partners and CMC mentors as they build a network to facilitate their journeys in future consulting roles. Knowing our curriculum is mapped to standards established by CMC-Canada ensures graduates have the essential knowledge and skills for career success." – Dr. Sheri McKillop, Vice President of Academics at the University of Fredericton
CMC-Canada supports more than 2,000 members nationwide and is part of the international community of recognized Institutes through CMC-Global. In addition to receiving credit for their educational accomplishments, students of the UFred Consulting Leadership Stream are eligible for free annual Academic Partner Student Memberships, providing them with access to the CMC-Canada Mentorship Program, which includes visits and sessions with seasoned CMCs hailing from the Big 3 & 4 Strategy Firms and consultants who own successful boutique practices.
"The renewed partnership between the UFred and CMC-Canada deepens our support for students pursuing careers in management consulting," says Donna Ringrose, Executive Director of CMC-Canada, "We're excited to continue our collaboration with UFred through the Academic Partner Program and strengthening our CMC community in the Atlantic region. Students will continue to have access to a strong partner providing them with the tools and resources necessary for a career in consulting and a clear pathway in earning the CMC designation, the profession's only international certification mark."
UFred is pleased to continue to work with CMC-Canada to ensure that students receive relevant, applied education in the Consulting discipline, and continue to have access to the CMC-Canada membership and associated professional resources.
For more information on the CMC-Canada and UFred partnership and its benefits to students, visit: https://ufred.ca/partners/
For more information about CMC-Canada and the Academic Partners Program, visit: https://www.cmc-canada.ca/academic-partners-UFred
Student Registration Link – https://www.cmc-canada.ca/MembershipRegistration#APRegistration
--