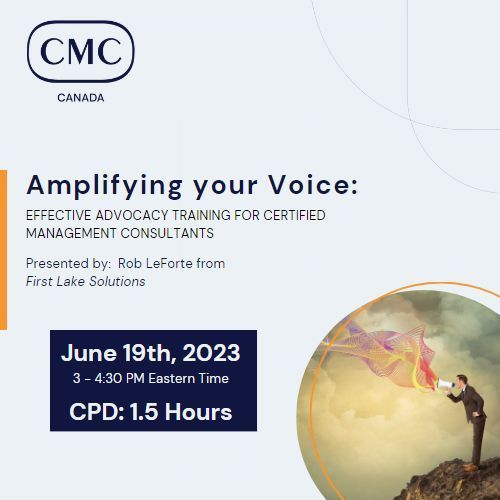 By: CMC-Canada / First Lake Solutions
Thank you to all members who attended our recent webinar: Amplifying Your Voice: Effective Advocacy Training for Certified Management Consultants.
In case you missed it, please check out the summary below for some great insights on government relations best practices, including how to have an effective face-to-face meeting with a politician or senior civil servant.
Background
The term "lobbying" originated in the early halls of modern government and the act of waiting in the lobby of halls of government and hotels for a chance to discuss and meet with government officials. Today, lobbying is an official political act, and one that is regulated by the government. Lobbying in Canada is regulated under the Lobbying Act first passed in the 1985 and then modernized in 2008, with the introduction of an official Code of Conduct and more regulations on money in politics and personal donations.
What Does Successful Lobbying Look Like?
To successfully lobby, it is important to remember that the core of lobbying is an in-depth conversation and the long game. A successful lobbyist must strategically use their limited resources and target strategic goals. Milestones that show successful lobbying like:
Your organization is welcomed by politicians to discuss policy

Invitations to departmental reviews and Parliamentary Committees as a trusted resource

Political influence is recognized by all parties, and coveted by the media Your ideas are

adopted in party platforms

Your ideas are adopted in legislation and regulation

Your members see new funding and supports from government because of your work
Potential Tactics to Lobby With:
Successful lobbying includes a series of strategies and steps, and those include simple tactics:
Have a plan

Reach your champions

Illustrate the problem

Talk about the broader consequences

Pay attention to the details; engage all stakeholders

Your issues, your stories - personalize it!

Have a concrete recommendation

Show how your solution is the right one

Create political opportunity for government/parties
Dos and Don'ts of Lobbying:
Keeping these milestones and tactics in mind will allow for organizing successful lobby meetings with elected officials and their staff. Once in the meeting, it is important to remember tips and tricks so that your time in your lobby meeting is effective:
Get them talking

Find out their level of knowledge about the issue and familiarity with your organization

Start by talking about the problems you are trying to solve

Identify the challenges in your community, and for Canada

Talk about your proposed solutions

Get their feedback

Take a photo

Follow-up
And while there are important dos, there are also important don'ts for lobbying meetings:
Don't be late

Don't treat staff with any less respect

Don't presume you know the outcome

Don't talk about other meetings

Don't be distracted
--
About the Author: Rob LeForte, Founder, First Lake Solutions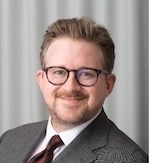 Rob has 15 years of government relations experience at the federal, provincial and municipal levels in Canada. Provincial work brought him to Ottawa in 2011 where he led government relations efforts for the Canadian Alliance of Student Associations (CASA). During that time, he advanced human resources and skills development policy, led intellectual property reforms, and built a strong network in Ottawa's political community.
Learn more about First Lake Solutions.
For more CMC-Canada events, visit our Events Calendar.
--