Taking on water
I recently bumped into an old friend – a respected financial industry leader whom I had worked with on mobile payment initiatives almost a decade ago. She asked me something quite interesting. "We all hear that FinTechs (companies that provide financial services through the engagement of technology) are disrupting the industry, and that this is forcing established banks to rethink the way they do business.
These institutions are revamping their services, pricing models and trying to embrace digital channels, but I wonder if you think this will be enough? I mean, with a changing customer demographic – do all the positives traditionally associated with incumbents just become an ever-tightening noose around their necks? Do you think incumbents can successfully compete?"
The glass can actually be half-empty!
Her questions made me think of what we associate with an incumbent financial institution (FI). An established FI has well engrained processes, tested business models, an experienced workforce, a history of compliance with regulations and policies, infrastructure, and we are familiar with their services. But are all these legacy capabilities holding them back?
As an example, over-the-top players are offering digital wallets (e.g., Google Wallet, Apple Pay) that are starting to result in incumbent FIs losing margins in some of their most profitable products. According to a McKinsey & Co study, by 2025 – FIs could lose up to 35% in profits from payments alone, Canadian banks can lose up to 70% of their margins in traditional retail banking, and wealth management can lose up to 35% of profits.
While a recent report by PWC concurs and states that by 2020 consumer banking, transfer/payments, and private wealth management will be the sectors most impacted by FinTech.
But all that water's got to go somewhere!
McKinsey & Co. has reported that global investment in FinTech surged from $2.6 billion in 2012 to $12.2 billion in 2014, a whopping sixfold increase. As if it wasn't a big enough surge in investment, 2015 finished with global investment in FinTech companies totaling $19.1 billion, with $13.8 billion invested into VC-backed FinTechs.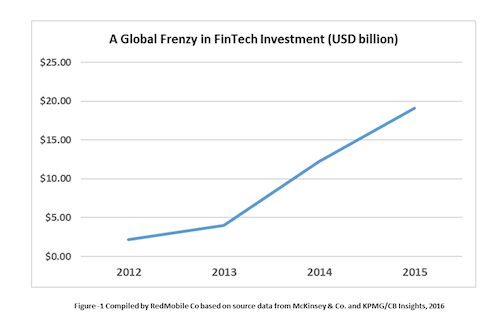 A recent report by KPMG and CB Insights also shows that nearly 20 FinTech Unicorn companies globally are taking on two of the most lucrative segments of the industry: payments and lending. (Unicorns are startups with a market valuation of over $1 billion).

Clearly incumbent FIs have their work cut out for them – both organizationally and operationally. Among other things, incumbent FIs need to:
Innovate services and business models or at least react quickly when they trickle down the financial services food chain;
Evolve from legacy technology and infrastructure, practices, organizational capabilities, to meet evolving customer needs;
Secure significant corporate buy-in from key decision makers to support transformation.
Water – what water? Just drink the kool aid!
To stem the rising tide against them, many incumbents are investing in promising FinTech startups, setting up corporate venture capital (CVC) arms in search of startups whose products and services are in line with theirs.
But is this sufficient to reverse the tide? Yes and no!
With rising pressure on margins, the loss of market share, and the prospect of customers migrating to FinTech-based services, incumbents have no option but to invest in FinTech. However, for most this will not be enough.
These are dramatic shifts in the FI fabric, and incumbents must prepare to make monumental changes, they have no option but to transform on multiple fronts – business, customer and technology.
--
About the Author
Dawood Khan is the founder of RedMobile, an innovative consultancy that is a trusted advisor to the world's leading public and private sector organizations. Mr. Khan has been providing Management, Innovation and Technology consulting services and advising executives and business leaders for over 23 years. He is an Industry expert in business and digital transformation, and use of smart, emerging and legacy technologies to innovatively meet business goals. He has worked with clients on developing mainstream innovation focused strategies, plans, business cases, get funding for capital projects, and develop technology investment and RoI assessments for clients in several different sectors including municipalities, retail, financial institutions, public safety, and telecom carriers to name a few.
Mr. Khan also helps organizations plan and execute their Digital Transformation journey through use of Design Thinking best practice to rapidly prototyping and iterate through the process of going from concept to proof-of-concept, and to commercial deployment of new services and products. His recent work includes planning and developing strategic roadmaps for large smart city initiatives, intelligent infrastructure asset planning, customer engagement using emerging tech (FI/FinTech), Retail digital customer experience design, public safety broadband network plan, funding and partnership models for DBOFM projects, proof-of-concept prototyping using IoT, Analytics, Cloud, and Mobile all as part of one application.

Mr. Khan has a Master of Electrical Engineering Degree from Columbia University, N.Y.; a Bachelor of Aerospace Engineering from Carleton University, and is a practicing CMC and Professional Engineer.

A version of this blog was first published here - http://redmobileco.com/are-fintechs-making-banks-endangered-species/
Sources:
[1] Fintech funding hits all-time high in 2015, despite pullback in Q4, KPMG and CB Insights, March 2016
[2] Blurred Lines: How FinTech is Shaping Financial Services, PWC Global FinTech Report March 2016
[3] Cutting Through the FinTech Noise: Markers of Success, Imperatives for Banks, McKinsey & Company Global Banking Practice, December 2015
[4] The Pulse of Fintech, 2015 in Review, KPMG, March 9, 2016
#Management
#ManagementConsulting