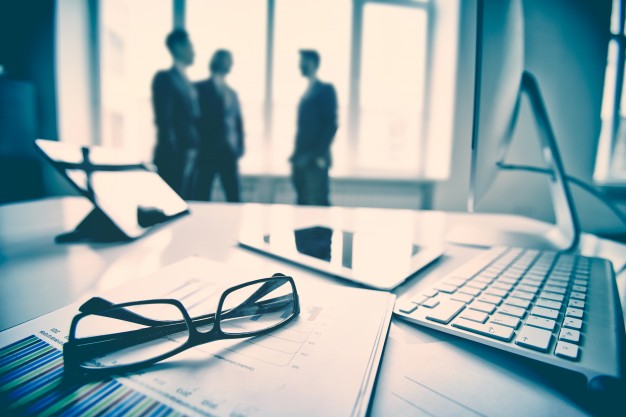 After a third reorganization of its operations team over the past five years, a financial services company faces poor morale and increasing employee turnover. The reorganizations brought some improvements but real operational problems were not addressed.
Reorganization tends to be considered as a quick solution to operational concerns. Businesses move people, modify reporting lines, and change some processes to align with the new organizational structure.
Let's take a look at the following diagram on organizational structure and process effectiveness. I'll use the above financial services company for illustration.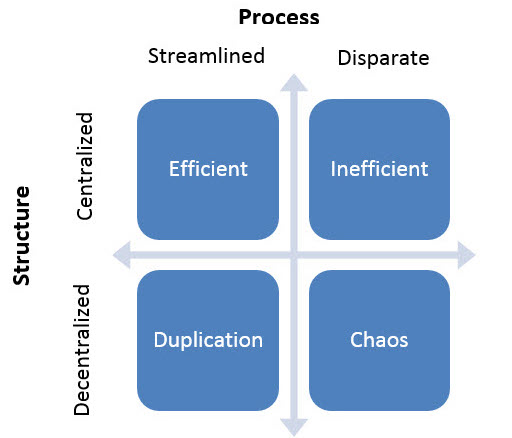 With a centralized organization structure, there is a common pool of expertise. Every department goes through the same process to submit a request for resource assignment and receive a deliverable with fairly standard quality. For example, different lines of business, or client groups, use a common process to acquire marketing resources to promote their products and services. This is efficient when the work processes are aligned and coordinated. The central marketing team works tightly with the financial advisors so that both are clear on the marketing campaign priorities. There is little debate on which client group gets the most focus.
On the other hand, disparate work processes in a centralized structure gobble up resources quickly, leading to delays. For example, the compliance group must review all clients' profiles to ensure that the regulatory requirements are met. As each client group has a different approach to onboard new clients, the inconsistencies create confusion for the compliance officers. Subsequently, inefficiencies stall the process. When the company underwent the first reorganization by assigning a dedicated resource to each client group, there was little gain other than the assigned person became more familiar with the idiosyncrasies of the particular process. It would have been more impactful to streamline and standardize the compliance review processes.
With a decentralized organization structure, business units have the budget and autonomy to meet their needs. The business carries higher cost in general. With streamlined workflows, the business benefits might outweigh the higher overhead. However, there is a threshold. The company used to have dedicated client support clerks for each client group. The second reorganization took place when many support clerks had too much slack. This reorganization resulted in a 5% reduction in headcount, which was considered a win.
Disparate work processes in a decentralized structure consumes inordinate amount of time and effort to trouble-shoot issues and sort out who is accountable for what, leading to rework and tremendous frustrations. The administration support clerks for each product group were responsible to handle the backend processes related to account openings and asset transfers. The variations across product groups were taxing and cumbersome. Errors happened frequently and affected client service. This triggered the third reorganization. It was determined that a central group would help to identify opportunities for alignment. Four months after the reorganization, the appointed manager had yet to make any meaningful improvement. This reorganization was least effective because there was little focus on improving processes that involve external business partners.
Most operational and productivity issues are process problems. They can be addressed through identifying root causes and implementing appropriate changes to overcome them. Changing the reporting lines doesn't make much impact on the mechanics of a workflow without devoting sufficient effort to fix the problems. By choosing to reorganize, you introduce another layer of change that stirs employee anxiety and delays the real impactful work of process improvement. If you're considering a reorganization, consider the improvements you seek before diving in.
--
About the Author
Connie Siu is an expert in building best practices for a high performance business through operational excellence and effective results measurement. For more than 25 years, she has worked in the trenches with business leaders across a broad spectrum of industries. Connie has served on the board for Entre Nous Femmes Housing Society, the Institute of Certified Management Consultants of British Columbia, and the Transportation Committee for the Richmond Chamber of Commerce. To learn more about Connie's work, visit: cdcsynectics.com​

A version of this post was first published here.