Management Consulting Week 2016 is coming up in the fall (Oct 17-21) – and the central theme of our fall event is Consulting 4.0. With the novel and disruptive changes that are taking place throughout the world, our presenters will provide you with the insights and practical takeaways you need to excel in this challenging environment.
Previously I looked at:
-the early origins of consulting, from the shop floor to the boardroom and office
-the impact of information technology and an economic recession on the consulting profession.
It's time to examine where consulting is today and where the profession is heading.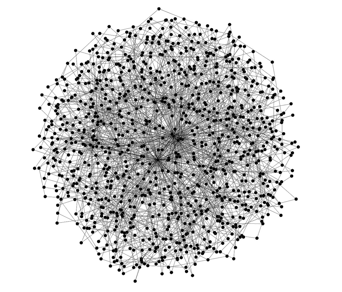 Image courtesy of the Creative commons
Consulting 4.0 – Yet to be Defined
Perhaps the greatest shift I have seen in management thinking is the strong desire to control all aspects of the business while being transparent (a consequence of ubiquitous social media). Social media has opened organizations to scrutiny both internally and externally. Concurrently, the democratization of knowledge has also allowed organizations of all sizes to seek out and integrate richer information into their decision-making.
Client firms are experiencing unprecedented change as innovation supported by rapidly changing technologies continues to drive growth strategies. Technologies such as advanced robotics, artificial intelligence, networks, advanced manufacturing and collaborative connected platforms are being integrated into organizations to gain competitive advantage. So what else is new? The technologies themselves are advancing rapidly, integrating/overlapping and converging while being adopted to define a core competency, create new business models and establish new business systems or platforms.
So, we face a conundrum – how to gain control over an increasingly uncontrollable environment.
Client expectations of their external consultants in this milieu are significant:
Deep operational knowledge and technical skills;
Mastery of multiple technologies and the capacity to bridge them;
Candor and pragmatism in diagnostics and recommendations;
Full disclosure and ownership of methods, techniques and data;
Training and development of staff associated with the work undertaken by external consultants; and
Focus on only part of a major project or initiative (such as a process).
Looking backwards suggests that we are not yet finished the story of management consulting. There are a number of novel and disruptive changes taking place:
On-going convergence of core technologies (advanced robotics, artificial intelligence, networks, advanced manufacturing and collaborative connected platforms) that are driving innovation and that continue to force re-thinking and re-structuring of many industries
Rapid adoption of unorthodox business models integrating these technologies (sharing economy, experience models, social enterprise, for example)
Development of new engagement models by consultants (simulations, design thinking, big data/analytics)
I have confidence that the profession will adapt to create value and seek solutions – to be in harmony with business. I am just not sure who will be attracted to this challenging and fascinating role – generalists, specialists or a hybrid.
Looking Ahead
It is not clear what the future holds for management consulting as these demands leave little room for growth.
In this diverse and shifting milieu, five tendencies that I can foresee:
Management consultants will become less affiliated with major consultancies and more flexible as free agents or as part of a looser network of skilled, technical experts.
Technical skills are equally important to management or relationship skills suggesting recruitment will shift from business schools exclusively to other more technical fields such as engineering, mathematics, computer sciences, graphic arts, music, communications, etc.
The role of the generalist will become more robust as both integrator and orchestrator (a master of convergence) and will become more valued as an essential element of an integrated solution (or an integrated team seeking a way forward).
Management consultants as part of a multi-disciplined team will need to master a new skillset that includes mobilizing networks, that manages outside of management disciplines and then progresses to a solution (thus, need for a new language that crosses disciplines, new models or frameworks that enable dialogue from multiple perspectives/incompatible paradigms and new processes that foster creative problem-solving/innovative thinking).
Decline of western-centric problem-solving approaches as Asian cultures become more prominent players, driven by the Chinese, Korean and Japanese economies.

The skills of a successful consultant in this milieu will have to include:

Deep expertise in several areas, many of them operational;
Capacity to acquire new skills (lifelong learning);
An ability to work effectively in multidisciplinary teams, often several teams simultaneously;
A mastery of technical and more traditional language(s) and communication;
Strong interpersonal, broader social, and networking skills; and
Adherence to a strong set of ethical guidelines.
Today's management consultants carry a great deal of personal responsibility for their success. The talent, expertise, and personal trustworthiness of a management consultant is as important as the organization he or she represents.
As client organizations exercise due diligence of their external advisors, the consultant's profile is under greater scrutiny than ever before. Virtually anyone can call themselves a management consultant without any formal education or accreditation. However, as the complexity of business increases and the need for specialized expertise or know-how grows, perhaps it is now time for government and businesses to begin insisting on standards and the certification of management consultants.
For government and businesses, certification is a way of tangibly ensuring that what had been assumed about character and trustworthiness can now be relied upon.
For the professional management consultant, certification offers a "seal of authenticity" to clients and potential clients about the experience, expertise and ethics of the practitioner.
In summary, management consulting has demonstrated an impressive capacity to adapt and re-invent itself. The next generation of consultants will thrive if they can constantly adapt and enable transformative change. What will make this next generation of consultants stand out will be their superior collaborative skills and behaviours and tangible symbols of personal integrity. Sounds like a great place to be!