Help Us Promote the CMC
By: Tim Wildman, FCMC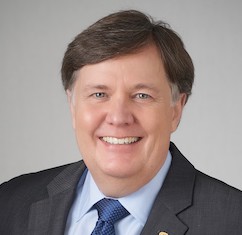 Un message en français suivra.
As the summer vacation season ends, it's my pleasure to take this opportunity to connect with you.
The global pandemic has challenged us and our clients, many of whom have faced supply chain disruptions, changes in customer demand and buyer behaviour, a shift to work from home (where feasible), unexpected and prolonged financial strains, heightened expectations of IT systems, etc. Faced with such challenges, our clients need management consulting services to help them move toward the next normal. They need professionals whom they can trust, individuals who are committed to the highest standards of consulting and adherence to the ethical standards of the profession. They need Certified Management Consultants.
Unfortunately for our clients and for the public, anyone can present themselves as a management consultant. There are no checks on qualifications and experience within their purported field of expertise, no commitments to professional standards, and perhaps no concerns about maintaining public trust. Individuals are not even required to register as management consultants. It is truly a "buyer beware" market.
As members of CMC-Canada, we know the CMC designation is the profession's only international certification mark, recognized in over 50 countries. We know that only individuals who have demonstrated the highest level of competency can meet the standards necessary to become a CMC. We know that CMCs must maintain currency through continuing professional development and must adhere to our Uniform Code of Professional Conduct, which lays out the CMC's responsibilities to the client, the public, their fellow members, and our profession. How well do your clients know this? Do they understand what those three letters in your email signature really stand for and the assurances they provide to every client? If not, I encourage you to take a few minutes to explain how the CMC designation differentiates you and your services, and how it provides value to them.
Your Certifying Institute and CMC-Canada strive to provide value to our members. Some members perceive value in the professional community, collateral, and professional development that membership provides. Some derive value from the discounts on insurance and other benefits that our affinity programs offer. To me, the greatest value lies in the CMC designation itself and what it means to be a member of the international profession of Certified Management Consultants.
Working in collaboration with your Certifying Institute, CMC-Canada continues to pursue our three strategic priorities: promoting the CMC so that it is the preferred designation for management consulting across Canada, evolving our profession to address the changing needs of our clients and to reflect Canada's diversity, and growing our association to make membership in a Certifying Institute and in CMC-Canada indispensable to the practice of management consulting. You'll hear more about our progress on these interrelated priorities in the months ahead.
When I first joined the Board of CMC-Canada in 2015, our Chair Richard Harris, FCMC, said that CMC-Canada needed to become "bigger and louder". Mike Watson, FCMC, and Leigh Harris, FCMC, echoed that call to action during their terms as Chair. I will do the same. Bigger and louder go hand in hand. We must continue to raise awareness of our designation, our Certifying Institutes, and CMC-Canada among clients and among prospective members.
All members can play a role in this effort to promote the CMC designation through their day-to-day conversations with clients and colleagues and through social media. Please help us get the word out.
Have a suggestion for CMC-Canada's marketing team on how we can get the word out about CMC? Please send it to marketing@cmc-canada.ca
--
Un message du Président du conseil d'administration
Aidez-nous à promouvoir le titre C.M.C.
Par: Tim Wildman, F.C.M.C.
Alors que la saison des vacances d'été se termine, je suis heureux de profiter de cette occasion pour communiquer avec vous.
La pandémie nous a mis au défi, nous et nos clients, dont beaucoup ont été confrontés à des perturbations de la chaîne d'approvisionnement, à des changements dans l'offre et la demande, à un passage au télétravail (lorsque cela est possible), à des tensions financières inattendues et prolongées, à des attentes accrues à l'égard des systèmes informatiques, etc. Face à de tels défis, nos clients ont besoin de services de conseils en management pour les aider à passer à la « nouvelle normalité ». Ils ont besoin de professionnels en qui ils peuvent avoir confiance, des personnes qui s'engagent à respecter les normes les plus élevées en matière de consultation et d'éthique. Ils ont besoin de conseillers en management certifiés.
Malheureusement pour nos clients et pour le public, n'importe qui peut se qualifier comme étant un consultant en management. Il n'y a pas de vérification des qualifications et de l'expérience dans leur prétendu domaine d'expertise, aucun engagement envers les normes professionnelles et peut-être aucune préoccupation quant au maintien de la confiance du public. Les individus ne sont même pas tenus de s'inscrire dans un registre de consultants en management. C'est vraiment un marché qu'on pourrait qualifier de : « acheteur méfiez-vous ! ».
En tant que membres de CMC-Canada, nous savons que le titre de C.M.C. est la seule marque de certification internationale encadrant la profession reconnue dans plus de 50 pays. Nous savons que seules les personnes qui ont démontré le plus haut niveau de compétence peuvent répondre aux normes nécessaires pour devenir C.M.C. Nous savons que les C.M.C. doivent maintenir leur valeur grâce à un développement professionnel continu et doivent adhérer à notre code uniforme de conduite professionnelle, qui énonce les responsabilités du C.M.C. envers le client, le public, ses collègues et notre profession. Dans quelle mesure vos clients le savent-ils? Comprennent-ils ce que ces trois lettres dans votre signature électronique représentent vraiment et les assurances qu'elles fournissent à chaque client? Si ce n'est pas le cas, je vous encourage à prendre quelques minutes pour expliquer comment la désignation C.M.C. vous différencie, vous et vos services, et comment elle leur apporte de la valeur.
Votre Institut de certification et CMC-Canada s'efforcent d'offrir de la valeur à nos membres. Certains membres perçoivent la valeur dans la communauté, le réseau et le développement professionnel que l'adhésion fournit. Certains tirent de la valeur des rabais sur les assurances et autres avantages offerts par nos programmes d'affinité. Pour moi, la plus grande valeur réside dans le titre de C.M.C. lui-même et dans ce que signifie être membre de la profession internationale de conseillers en management certifiés.
En collaboration avec votre institut de certification, CMC-Canada poursuit ses trois priorités stratégiques: promouvoir le titre C.M.C. afin qu'il soit une référence pour le conseil en management partout au Canada ; faire évoluer notre profession pour répondre aux besoins changeants de nos clients et refléter la diversité du Canada ; et faire croître notre association pour rendre l'adhésion à un institut de certification et à CMC-Canada indispensable à la pratique du conseil en management. Vous en saurez plus sur les progrès de ces priorités interdépendantes dans les mois à venir.
Lorsque je me suis joint au conseil d'administration de CMC-Canada en 2015, notre président Richard Harris, F.C.M.C., a déclaré que CMC-Canada devait devenir « plus grand et plus fort». Mike Watson, F.C.M.C., et Leigh Harris, F.C.M.C., ont fait écho en faisant appel à l'action pendant leur mandat de président. Je ferai de même. Plus grand et plus fort vont de pair. Nous devons continuer de faire connaître notre désignation, nos instituts de certification et CMC-Canada parmi les clients et les membres potentiels. Tous les membres peuvent jouer un rôle dans cet effort de promotion du titre de C.M.C. par le biais de leurs conversations quotidiennes avec les clients et les collègues et sur les médias sociaux. S'il vous plaît, aidez-nous à passer le mot.
Vous avez une suggestion pour promouvoir le titre C.M.C.? Contactez l'équipe marketing de CMC-Canada au : marketing@cmc-canada.ca.
--