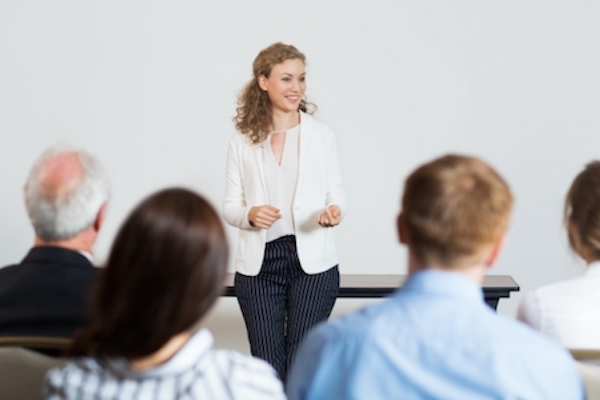 On January 25, 2018, the GTA Chapter of CMC-Ontario, in partnership with CPA-Ontario, was pleased to host a breakfast and Leadership Thought Forum featuring certified communication expert, George Stewart and Larry Williamson, registered graphic designer.
The event focused on how to transition a report into a powerful presentation using four key components; preparation, content, delivery and slides. 
Stewart began the session by reminiscing about his time as a 20-year-old rookie reporter interviewing Prime Minister Pierre Elliott Trudeau. Describing himself as very nervous at the time, he was calmed down when Trudeau graciously whispered to him before going on air that they "were just two guys having a chat." Stewart now shares that advice to anyone presenting – we are just people talking.
After broadcasting, Stewart's career in real estate and finance led him to the conclusion that being a great presenter has nothing to with age, education, seniority or gender.  Rather, all good presenters understand the powerful tool they wield every time they present.
In fact, said Stewart, the number one skill Fortune 500 CEOs look for when hiring executives or promoting people into senior positions is the individual's ability to communicate effectively. Stewart believes that "when you can stand in a room full of executives, say what you want to say, and say it with confidence and enthusiasm, you are doing what 95% of your peers only wish they could do." Presentations are a fantastic opportunity to distinguish oneself. An individual with advanced communication skills can outshine someone who has more education, experience and accomplishments. There is no other single event that can have more impact in one's career than a well-executed presentation.
Stewart shared three of four core components required for a quality presentation.
 1. Preparation
Assess what kind of presenter you are and aim to become communications-focused. There are two types of presenters:
Performance based: These presenters focus on themselves. Their aim is perfection. They believe they fail if they make mistakes.
Communications based: These presenters focus on the audience. They believe they will be judged not by their performance but by their message. Because of that, mistakes are acceptable. Their audience will be forgiving. This is a preferred perspective.
2. Content
Three components make for good flow in a presentation – helping the audience to quickly and easily understand content:
Opening: Get everyone on the same page and thinking the same way. Include a quote or anecdote that is current. If you are presenting to a CEO, open with why you are there and then immediately follow with your recommendations or conclusion. Don't waste time in a big build-up.
Body: Include up to 3 key points with up to three supporting points for each.
Closing: Include a call to action. End with a simple "thank you".
3. Delivery:
Audiences do not like presenters that are unprepared, so do practice! Most presenters don't practice enough – or practice correctly. Practice out loud and break the presentation into sections to ease the preparation process. Carefully rehearse stories or anecdotes that you are including so that you don't go off track. Be authoritative.
Stewart offered some overall additional tips:
Prepare to make eye contact. Establish credibility with the audience.

If there is an elephant in the room, talk about it first. Not addressing it will make you less credible.

Read the room. If, in making a recommendation, you see agreement (nodding heads), then stop pressing your case and ask if there are any questions or issues. Or, if you find yourself "standing in a hole, then stop digging." Ask your audience if you've lost them, wind back or redirect, and get them back on track. 

Memorize the first few slides as that's when presenters are typically the most nervous.

Most executives don't like slides. Ask before you start preparing a slide deck.

Treat every opportunity presenting in front of senior executives as an interview.
4. Slides (or No Slides)
Stewart then introduced Larry Williamson who had the following tips on the fourth component of a quality presentation – slides.
Some of the best and most popular presentations do not have slides. If you don't feel you need them or that your audience will not want them, then don't prepare slides.

People spend a lot of time researching and preparing reports. But from there, you have to present the report live and that's where you have to break down the information in sections so that you can discuss it with people in a room.

Once you have a script, determine if you are going to use slides and what they will be. Use sticky notes and a highlighter and write down words or draw a picture that would support your points. Create a story board.

Focus on simplicity. If you are going to have something on a slide, break it down.

Be clear. Make sure the audience will be able to understand what you are talking about.

Make sure your content is there for a reason. Do they really need that information? Make sure the information resonates with your audience.

Limit the number of bullets you use. Break down content to get rid of insignificant words.

Many people are colour blind. Stick with the primary colours.

Don't include spreadsheets. Break down the spreadsheet into a simple chart that is easy to read. Bar charts are the simplest and easiest to understand.
Stewart wrapped up the session by imploring the audience to do what it takes to enhance their presentation skills – as their future prospects depend on it.
Overall, the session was well received by the engaged audience of CMCs and CPAs in attendance. Several of the key presentation components resonated with Marylka Empey, CMC, Founder and Chair of the Leadership Thought Forum. Empey remarked that "Mr. Stewart and Mr. Williamson's presentation reminds us how critical strong communications skills are and that continual improvement in this area will result in greater professional success".
--
About Heather Terrence 
Heather Terrence is a Certified Association Executive (CAE), a senior operations leader and governance specialist with over 20 years of experience with non-profit organizations. She has worked with numerous Boards and Committees to develop and implement frameworks and policies in all pillars of an association. Heather has recently served as Corporate Secretary to the CMC-Ontario Council. 
About Leadership Thought Forum Events 
GTA Chapter of CMC-Ontario held its first Leadership Thought Forum in 2012. These events foster thought leadership and discussion regarding a range of strategic issues affecting organizations. Keynote speakers are leaders in business, consulting, academia or government, who bring a global perspective to the issues at hand. For more information the Leadership Thought Forum, or guest speaker opportunities, please contact Marylka Empey, CMC, at mempey@trinitymaster.com. 
For the latest events, check out our Events Calendar.