Strategy maps may take a fair bit of work to dial in if your organization lacks clarity of direction, but it is arguably the most effective way to collaborate on, and organize your strategy for communication and alignment. A strategy map is a visual that captures and organizes the strategic objectives that an organization will pursue to achieve greater competitive advantage. It's critical to tell people what matters within the context of YOUR strategy, otherwise it is almost impossible to align a workforce behind a value discipline.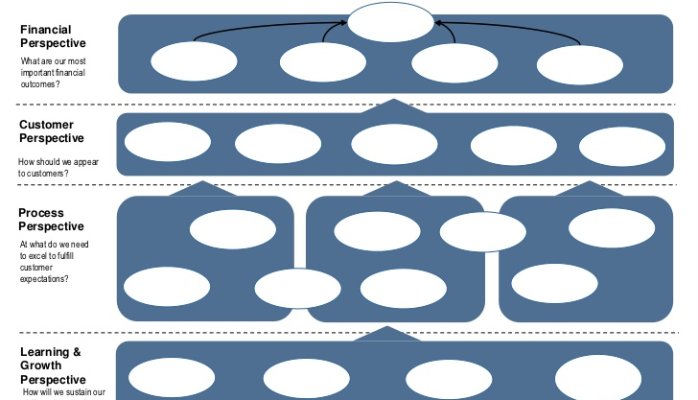 Is it too much work? If leaders understand all of the inter-dependencies within their strategy (already), and all of them understand it the same way, building a strategy map will take about 5 minutes. One you have it, the ability to cascade direction increases. The fact that it usually takes much longer is representative of the idea that we don't always understand our strategies as well as we think we do. So what is this new level of clarity comprised of?
1. Understanding inter-dependencies: How do each of your strategic objectives, the sub-components of the strategy, impact each other? Do they? Is the business plan synergistic, or a collection of bottom-up operational issues?
2. A new perspective on the causal relationships between measures: Over time, if changes in performance levels of metrics don't contribute to downstream improvements (linked objectives) then you may need to question whether the measure is appropriate, and whether the relationships between objectives are as real as you have theorized. This is a more sophisticated understanding of direction than discussing individual objectives individually.
3. Confidence in measurement: How do you know that you are measuring not only all of the right things, but only the right things? Every strategic objective should be linked to a measure, if they are in fact critically important. Without this context, your focus may be pulled around by "good measures" that may or may not be deeply linked with strategy. Measurement drives behavior, and it's essential that you're ONLY measuring things that are relevant to your goals.
4. Resource expenditure / project relevance: If your organization is investing effort into improvement projects that can't be tied to your strategy map, you should question whether they are relevant at all. This is a great way to identify what you should be challenging, and where your "sacred cows" may be grazing. Teams naturally begin to look for where they fit on the map, and how they contribute; this is important.
The ability to present the entire strategy on a single page is a huge advantage in communicating direction. It's also often the best way to understand whether you business plan comprises a cogent strategy for gaining competitive advantage. Your goal of consistently communicating this through multiple levels of leadership will be greatly supported by this representation. It's a creative exercise that you may find challenging, but the rewards of doing this well are many.
--
Kirk Leverington is an 18 year veteran of the Saskatchewan credit union system and a long-term corporate strategy manager. Combining a belief in challenging leaders to think strategically with an expert understanding of systematic approaches to implementation, Kirk has played an integral role over the years in supporting organizational change.
As the manager at SaskCentral of National Consulting, Kirk uses his experience to guide the business team in offering enterprise risk management, deposit and lending support, ICAAP, capital planning, strategic and operational planning, audit, and electronic forms to Canadian credit unions.
This blog was first published here: https://www.linkedin.com/pulse/benefits-strategy-mapping-kirk-j-leverington-mba-cmc?trk=hp-feed-article-title-publish