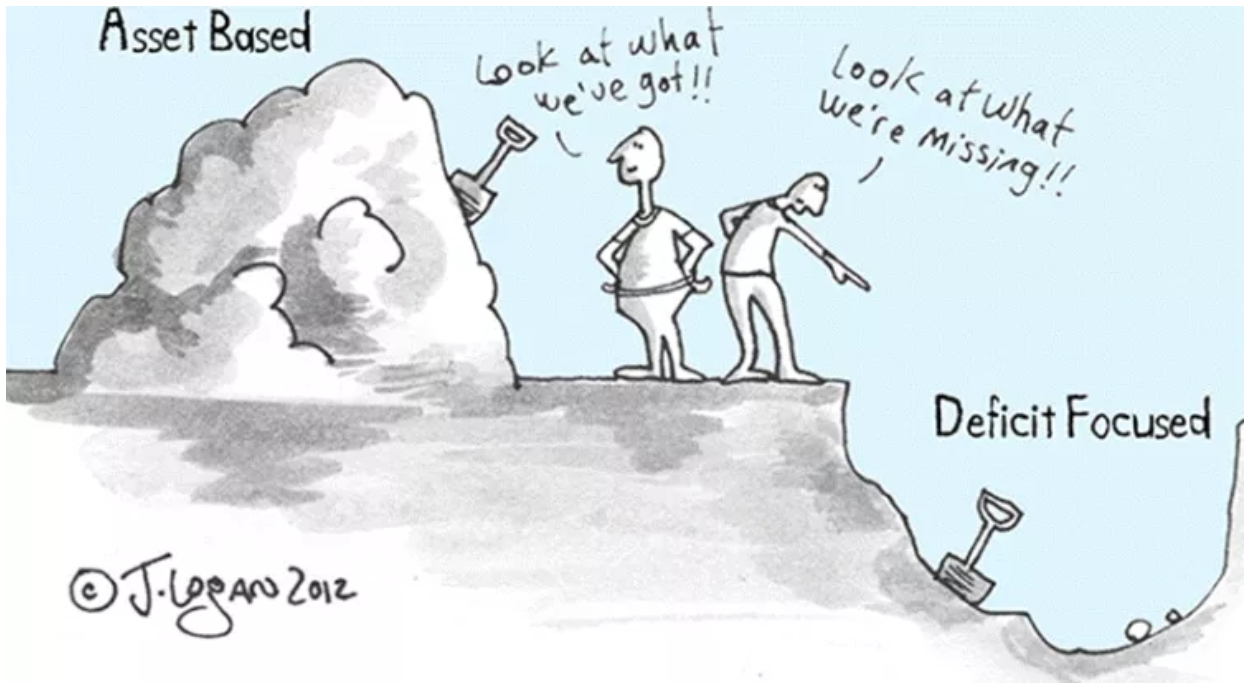 I always enjoyed the message from the featured image above. As a management consultant, validator, and assessor I am often engaged by organizations to analyze their operations and systems to identify opportunities for improvement. I have also spent a
couple
decades on advising on how to implement better practice methods and processes around various disciplines (project, programme, portfolio, risk, business case etc.).

I learned about appreciative inquiry several years ago, and have added it to my tool kit to supplement the root cause analysis technique common in consulting, IT and project management. This straightforward approach has significantly benefited my clientele, as well as my approach for engaging with my stakeholders.
Root Cause Analysis
One of the common approaches that I frequently used in the past was to conduct a root cause analysis during the entry, diagnosis and action planning phases of the consulting process:


Exhibit 1: A combination of Management Consulting Processes from ISO 20700 Guidelines for management consultancy services and Milan Kubr (Used by CMC Canada's Process Model)

As outlined in the diagram above, the typical root cause analysis (RCA) process involves:
clearly defining the problem (Entry)

gathering data / evidence 

(Diagnosis)

identification of issues that contribute to the problem (Diagnosis)

finding root causes (action planning – ideas)

developing solution recommendations (action planning – decision)

implementing recommendation 

(Implementation)

Observe solution for effectiveness (withdrawal)

May be

some level of iteration in resolving issues
Another perspective is outlined below: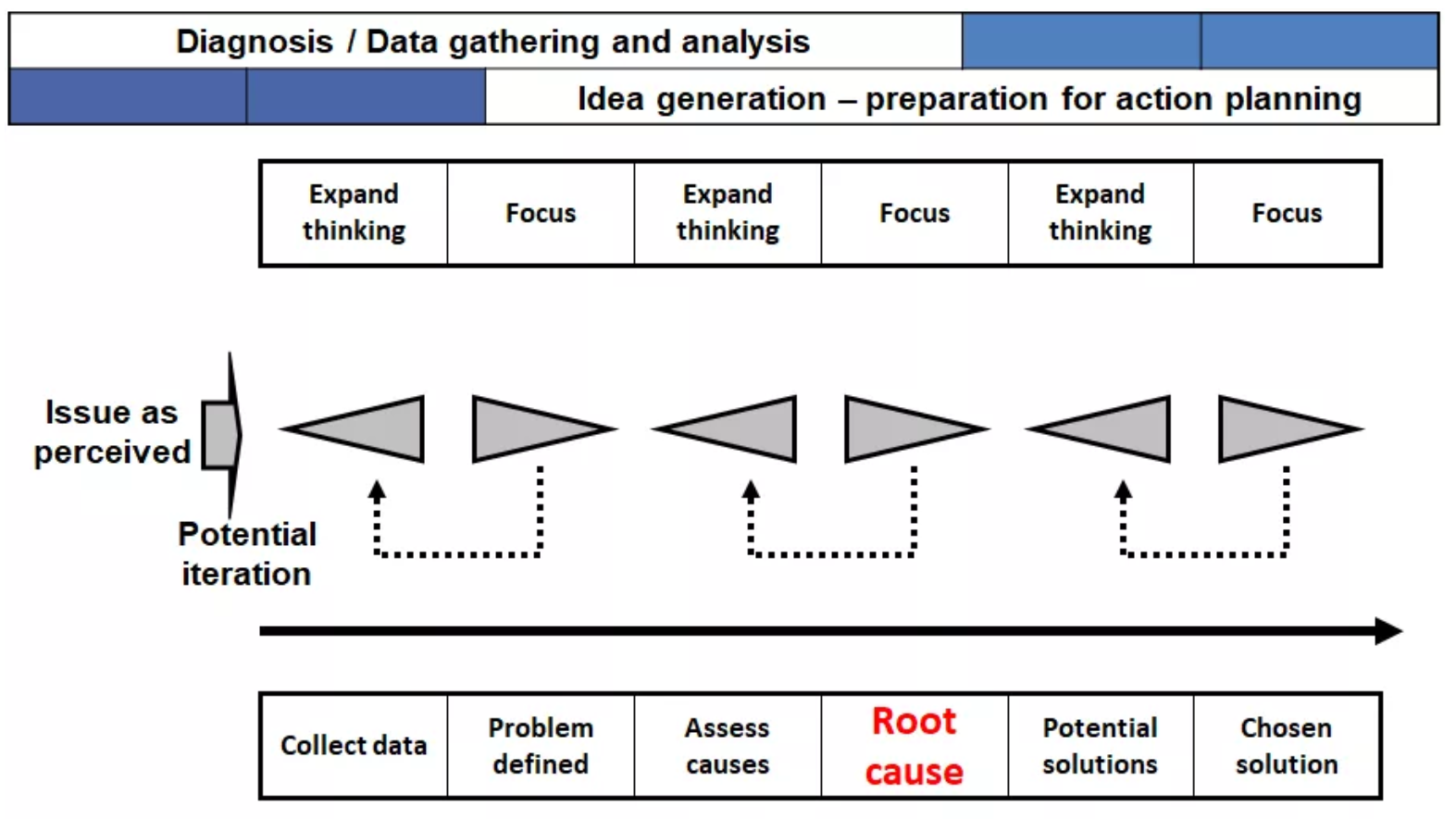 Exhibit 2: Progress towards understanding process (CMC Canada)

This was an easy choice, as many of the methods and better practices had maturity models and lists of recommended focus areas where we could identify weaknesses or omissions.
One of the challenges with root cause analysis though, is that organizations often focus on omissions or problems which paradoxically becomes part of the problem.
Appreciative Inquiry
Another approach is the realization that organizations can learn more from that which already works, than from that which doesn't work.
Particularly when implementing better practices or transformations, first focus on what organizations are already good at and want more of. Since what organizations focus on becomes reality, it is more effective and efficient to pay attention to this perspective first and foremost. These strengths are often hidden throughout organizations and regions.
The difference between deficit based change (root cause analysis) and strength based innovation (appreciative inquiry) is outlined below: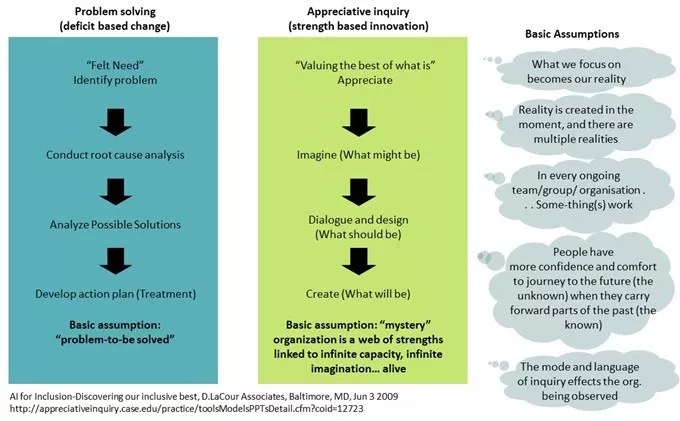 Exhibit 3: Differences between Problem Solving and Appreciative Inquiry (AI for Inclusion-Discovering our inclusive best, Dr. Deatrus LaCour, Baltimore, MD. Jun 3 2009)

The Appreciative Inquiry approach is a problem solving method pioneered by David Cooperrider of Case Western Reserve University in the 1980s. Appreciative Inquiry is a strategy for purposeful change. It identifies the best of "what is" to pursue dreams and possibilities of "what could be."


Exhibit 4: Appreciative Inquiry (Jon Townsin, 2013)
How does this help sustainability?
When we go in to advise organizations and project teams on sustainability, they frequently are already doing many things well. If we take the time to explain the why and what of the sustainable practices and not just the how, we can uncover many existing practices that can be leveraged elsewhere in the organization. Often making a few minor improvements on existing practices, as well as raising the profile and importance of these practices, can make the world of difference for more empowered, energized, and successful project delivery teams.
In a curious way, this helps engage the populist trends in society. As opposed to the elitist "not invented here best practices" imposed from on high, by recognizing that what we are doing already works best and that we are leaders in these areas, makes the few changes that may be required minor. Plus the organizational subject matter experts are recognized and rewarded for their investment and insight and can advise others.


REFERENCES
AI for Inclusion-Discovering our inclusive best, D.LaCour Associates, Baltimore, MD, Jun 3 2009, http://appreciativeinquiry.case.edu/practice/toolsModelsPPTsDetail.cfm?coid=12723
Appreciative Inquiry Commons. David L. Cooperrider Center for Appreciative Inquiry at Champlain College in continuing partnership with Case Western Reserve University's Weatherhead School of Management. https://appreciativeinquiry.champlain.edu/
Townsin, Jon. (July 12, 2013) Appreciative Inquiry, from https://www.youtube.com/watch?v=QzW22wwh1J4#action=share


About the Author - Peter Milsom, FCMC, GPM Global

Peter Milsom helps organizations understand what sustainability means to them, in order to maximize their benefits and value while minimizing costs and threats. He does this by helping organizations at all levels from the c-suite to the front lines understand what all of the elements of sustainability are, and helping them prioritize and focus on those areas that make the most sense. His area of focus in the sustainability space is change delivery or projects. Peter has also worked on a number of international standards, and is currently the Convenor of ISO 21502 Guidance on Project Management, and is the Secretary of the ISO 31000 Implementation Guidance Handbook. Peter is currently a Board Member of CMC-Ontario.

He is a contributing author: Sustainable Project Management - The GPM Reference Guide, 2nd Edition; The GPM P5 Standard for Sustainability in Project Management v1.5

A version of the article was first published here.