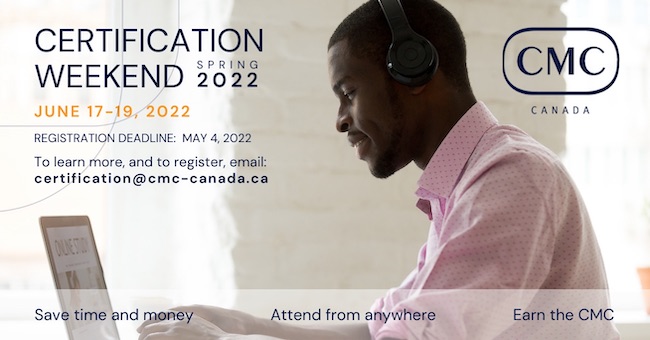 By: Marsha Bisson
The road to becoming a Certified Management Consultant (CMC) is smooth and relatively easy to navigate for some. For others, it may seem quite challenging.
I often get asked about the process for becoming certified. How long will it take me? Is there anything I can do to speed up the process? These questions are not easy to answer as each candidate has varying backgrounds, distinct ideas on how quickly they might like to be designated, and when they can schedule completion of their required steps.
Just recently, CMC-Canada announced its first Certification Weekend for Experienced and Executive streamed Candidates, which will help those who work better under set timelines. We've coordinated all the certification elements to save you time and money while keeping the integrity of the process in obtaining the CMC designation to its highest standards.
This weekend will not only provide scheduled deadlines but will allow participants to feel better prepared for the final step, the oral assessment.
Certification Weekend will be held on June 17-19, and depending on a candidate's applicable stream, some pre-work will be required.
Listed below is a summary of the key steps required before the weekend event.
Register for the Certification Weekend (contact certification@cmc-canada.ca) – The deadline is May 4th, 2022

Stream Selection by Provincial Registrar (resume required at registration)
List of assigned steps to be completed two weeks prior to weekend event:
Locate 2 CMC Sponsors (not applicable in Ontario)

Attend the Ethical Behaviour Course – April 5th or May 12th (pre-work and completion exam required)

Provide Client References (2 for the Executive Stream, 3 for the Experienced Stream)

Complete Five (5) Engagement Summaries (Experienced Stream ONLY)

Complete Experience Declaration Form
Weekend programming will consist of the Executive Essentials of Management Consulting course and access to a pre-assessment discussion with Q&A facilitated by seasoned CMCs. Oral Assessments will be scheduled on the Saturday/Sunday, or the following week per Candidate and Assessor availability.
To get a better idea on which stream may apply to you, please view our Certification Pathway here.
Whether you are someone who likes to follow set timelines or prefers to go at your own pace, CMC-Canada welcomes the opportunity to speak with you further about the Certification Weekend. You may reach us at certificaton@cmc-canada.ca or 416.860.1515 x212
Fast track your CMC certification process and earn the only professional consulting designation that certifies you as a leader in the consulting industry.
We look forward to hearing from you!
--
Marsha Bisson
Manager, Certification
--