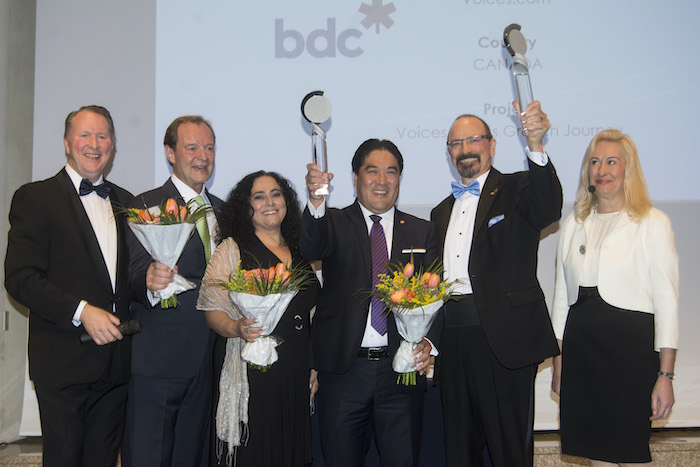 By: Glenn Yonemitsu, FCMC, MBA
Submission deadline for the application form for the Constantinus International Award program to CMC-Canada is Friday, June 17, 2022 via consulting@cmc-canada.ca.
--
From 2014 to 2021, I served as the Lead Delegate from Canada to CMC-Global and I've been involved with CMC-Global in different roles all the way back to 2010. I share this because I have been aware of their many initiatives, including the Constantinus Award program.

When asked whether CMC-Canada would participate in this program, I must admit, I wasn't sure. Not because I thought the Constantinus award wasn't good. I knew it was a fantastic program, almost like the Academy Awards, because I saw the photos and videos from the gala in Austria. But, I had reservations because I thought consulting in Canada was different, where we respected confidentiality and would not share details about consulting engagements as they did in Europe.

In 2018 the Board of Directors of CMC-Canada decided to participate, so, our 4 CMC-Global delegates from Canada decided the best way to promote the program and show our support of it was to encourage our peers to enter. And for us, to enter our work, as well. Fortunately, I had a project that had some outstanding outcomes, and I also knew the CEO would be supportive of divulging their identity, as he had already written some articles on our joint work together.

Imagine my surprise when we were advised that our project had passed the review of the Canadian judges…and we would be allowed to enter the International competition. Then, imagine my bigger surprise when we were informed that we had been shortlisted and we should consider attending the awards ceremonies in Milan, Italy.

When the awards dinner came up, I have to tell you there have been few days in my life/career where I was filled with as much anticipation. I don't know why, but perhaps it was because there was a chance of getting an international award. First, they announced the National Champions from the various countries where there had been entrants.

When we were announced I thought – too bad, we got the National award and maybe that means we won't be getting the International award. Sorin Caian, who was the Chair of CMC-Global was sitting at my table, said he thought this would be a big day for Canada. I immediately thought about my fellow Canadians who were shortlisted – Michael Ennis and ClearThink Group (the Cormiers)…and I figured they had the upper hand. Then, we were announced as the Gold Award winner…with both Ennis and the Cormiers as tied for the Silver. Imagine, the Canadians finished on top of the podium….a 1-2-2 finish!

Looking back, it was such a great experience, and it brought me closer to my client, as I got to spend even more time with them…and I learned about their positive thoughts and feedback on our mandate, as they needed to complete sections of the submission.

I would recommend participating in the Constantinus International Award program to everyone with a project they are proud of. It has been one of the best things I have done… and since then, I've recommended two of my advisors to enter their projects.
For more information on the Constantinus International Award program, click here.
--